Our Luxury Safari Camp is much more than a place to stay and to relax. It is a base from which you can experience Nature while disconnecting from your daily schedule and hectic lifestyle. We offer unique experiences at Raven's Nest Nature Sanctuary – located by over 9000 acres of intriguing wilderness, awaiting your discovery and enjoyment! Further afield there are majestic wilderness areas to explore in the Sky Islands region. If you don't feel like doing much of anything, then of course we will encourage and support you during a tranquil Nature Retreat. We will try to accommodate your every need, while providing you with the options you desire. We'll help you plan a very unique getaway at our luxury Eco-lodge that suits your tastes and provides maximum relaxation.
ADVENTURES WHILE AT RAVEN'S NEST
Here is an overview of the experiences you can enjoy while lodging at our Safari Camp. Please feel free to ask about any adjustments or custom experiences during your stay at our Nature Sanctuary!
MORNING NATURE WALK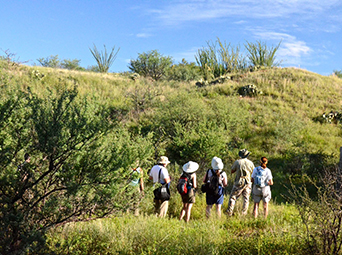 A relaxed stroll aimed at introducing you to all facets of Nature at Raven's Nest Nature Sanctuary.
EARLY BIRDS WALK
Venturing out on a slow-paced meander, you'll soon see why southeast Arizona ranks as one of the top birding areas in the U.S.!
RAVEN'S NEST BIRD LIST ( download PDF)
MORNING HIKE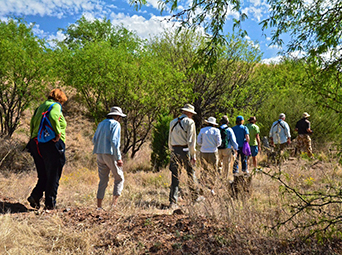 A brisk walk in order to boost your fitness and providing plenty of cardio exercise! Our Nature trails and the nearby wild areas provide the perfect start to your morning – before or after breakfast.
NATURALIST SAUNTERS
If you crave a slow exploration of Nature that involves easy and relatively minimal hiking, then you may enjoy our Naturalist Saunters. The focus will be on a wide range of Natural History topics including, but not limited to: Birdwatching, Wildlife Tracking, Geology, Ethnobotany, Wilderness Survival Skills… Learn to see Nature's nuances and to appreciate the details that we normally pass by in our everyday rush.
WILD EDIBLE & USEFUL PLANTS WALK – ETHNOBOTANY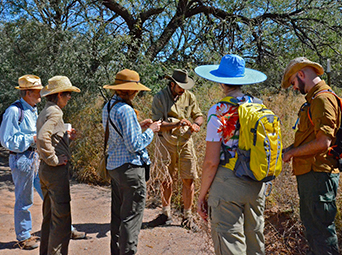 The Sky Islands of Arizona are home to a staggering number of plant species that can be used by humans. Ever eaten a Prickly Pear Fruit or witnessed a fire made only with plant parts and without modern tools? Here is your chance to discover these and other botanical wonders. Ethnobotanist Vincent Pinto will be your guide as you learn how to find, identify, collect, process, and use a broad spectrum of plants for: Food, Fire, Shelter, Medicine, Tools, Basketry, Art, Rope-making, Containers, Dyes, and more!
WILDERNESS SURVIVAL SKILLS
Wilderness Survival is a hot topic these days and for good reason. In an uncertain world – one where unexpected events occur and where you could easily find yourself stranded in the wilderness – it's only common sense to learn at least the basics of surviving a calamity. In this engaging and informative program you'll discover and try first-hand many time-honored skills, such as: Fire-by-friction, Shelter-making, Wild Edible Plants, Rope-making, Water-finding & Safety, Hunting & Trapping, Identifying Dangerous Plants & Animals, Flint-knapping (making stone tools), Mineral Paints, Natural Navigation, and much more!
WILDLIFE TRACKING
Wildlife Biologist & Naturalist Vincent Pinto will teach you how to find, identify, interpret, and follow the tracks and signs left by a wide variety of wildlife. Learn to read the hidden language of the land, scripted by the passage of a myriad of creatures!
STONE-AGE SURVIVAL KIT
Construct a Survival Kit containing 10 items that could save your life. You'll use only natural materials and see how each item could prove vital to your wellbeing someday!
INTRODUCTION TO ORGANIC GARDENING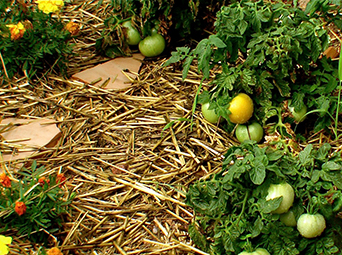 Learn how to construct a functional, food-producing organic garden from scratch! Includes a tour of the Organic Gardens and Organic Orchards at Raven's Nest.
PLANT A TREE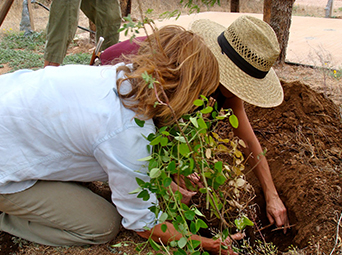 AT RAVENS-WAY WILD JOURNEYS LLC we are committed to Restoring Degraded Habitats and Promoting Land Conservation. We firmly believe that every inch of Wild Land is sacred because it is home to a plethora of Wildlife and Native Plants that helps lend unique Biodiversity to the Sky Islands Region. Along these lines we've planted and continue to incorporate Native Species of Trees, Shrubs, Vines, Succulents, and Wildflowers – including many Edible and useful Plants – in an effort to create and diversify Wildlife Habitats.
Planting Trees to reduce carbon dioxide is more important than ever given the effects global warming is having on our planet! Contribute to our ADOPT-A-TREE program by planting a tree at Raven's Nest Nature Sanctuary. Participants will learn about their tree, its role in the ecosystem ,and receive a certificate to commemorate their efforts. ADOPT -A-TREE certificates can be purchased on behalf of others and the trees planted in their honor. Planting usually takes place in the early morning when soil is cooler.
ECO-CRAFTS
Discover how you can transform the many gifts of Nature into beautiful arts, crafts, and even functional tools. Ostrich Egg Water Jugs, Gourd Canteens, Mineral Paint Kits, and other projects await your ingenuity!
STARRY SAFARI
The night skies of Southeastern AZ include some of the best celestial viewing sites in North America. Year-round you can explore the mystery of the dark, including a constellation tour, planetary views, and a multitude of deep sky objects. With the aid of cutting edge technology, as well as the ancient sky stories, you'll rediscover the joy of gazing at the night sky. This experience can be combined with a dusk Wildlife Safari if you desire.
OWL PROWL
Southeast Arizona is renowned for its bird diversity, including more Owl species than any other state. Here we venture afield at Raven's Nest and nearby natural areas with Owl researcher Vincent Pinto. Great-horned Owl, Western Screech Owl, Whiskered Screech Owl, Elf Owl, & Long-eared Owl are a few of the species that you may encounter. You will also listen for NightJars, Coyotes, and other denizens of the night.
YIN YOGA
Relax and loosen your body and spirit in this quiet, peaceful, and liberating style of Yoga.
GUIDED MEDITATIONS IN NATURE
Experience how the peace and beauty of Nature can transform you into the person you so deeply desire to be.
NATURE'S GYMNASIUM
Fitness through Nature: Learn how to use the many opportunities afforded by the natural world to enhance your strength, flexibility, and general health! Be inspired to improve your health by the many incredible species that surround you at Raven's Nest Nature Sanctuary.
NIGHT WALK
Experience the magic of Raven's Nest at night! With sporadic use your flashlight, we'll guide you on a uniques sensory experience at night to uncover unusual nocturnal creatures and their habitats. A great opportunity to see Owls, Frogs, Bats, Insects, night-blooming Plants, and other wonders of this hidden, nocturnal world.
NATURALIST JOURNEYS
A popular evening program option is to discover the majesty and mystery of Nature through a variety of intriguing slide-show topics that include: Sky Islands Natural History, From AZ to Africa: A Naturalist's Journey, Sky Island Invertebrates, An Introduction to Birdwatching, Thorns, Stingers, & Fangs – Welcome to AZ!, From AZ to Australia: A Naturalist in Queensland, Sky Islands Ethnobotany – Wild Edible & Useful Plants, and more. Also choose from our extensive Nature DVD library.
OUR ADVENTURES AFIELD
NATURE TREKS AND SAFARIS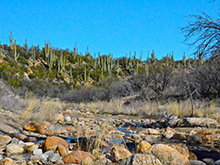 Designed for those who like to venture further afield, our Nature Treks encompass a broad spectrum of experiences and levels of difficulty. Treks may be long or short, easy or demanding – just let us know what you would like to experience. Certain destinations are known for their wildlife viewing and, hence, constitute a Safari, where the emphasis is on seeing these species. Imagine hiking to a remote waterfall, standing atop towering cliffs, gazing upon a cloud of migrating birds… All of this and more can be yours on a Nature Trek or Safari!
CUSTOM- MADE ADVENTURES
Here is your opportunity to create the exact experience you desire during your stay at Raven's Nest.  With our help you choose the topics, the locations, and times that best suit your needs in order to get the most out of your experience!
RAVENS-WAY WILD JOURNEYS HAS BEEN FEATURED IN: