At RAVENS-WAY WILD JOURNEYS LLC we focus on private, custom-made Sky Islands Nature Adventures that offer you and your group a unique opportunity to explore truly remote, secluded, and pristine natural areas in southeastern Arizona. Since 1987, our continued decades of experience exploring the Sky Islands is reflected in the intimate knowledge of local wilderness areas and pristine natural habitats. Our popular RWWJ Biodiversity Tours, Nature Treks, and Naturalist Saunters offer the possibility to either cover longer or shorter distances, respectively, while learning about the unique biodiversity of the Sky Islands.
Join RAVENS-WAY WILD JOURNEYS LLC  to disconnect from technology, gadgets, and daily obligations, while discovering the amazing natural beauty that pervades our magnificent Sky Islands region. Grab your binoculars, backpack, walking poles, and camera, and join RWWJ to learn about our renowned Sky Islands biodiversity.  Explore a wide variety of amazing wild areas, including pristine, secluded, remote, and diverse destinations that will surprise even the most seasoned explorer!
A plethora of Sky Islands habitats within a relatively short distance from Raven's Nest Nature Sanctuary present varied and exciting exploration opportunities. Amazing biodiversity, breathtaking vistas, and a unique outdoor experiences await those who venture into this unique area.
If you are seeking the solitude and bliss of Nature, while looking to disconnect from the constant hustle and bustle of big cities, then you've found the right place! We can provide both guidance and insight into where and how to have a placid and rejuvenating Nature Retreat of short or long duration.

Passionate about the urgent need to protect the area's unique biodiversity and promote conservation efforts in the region, Vincent came up with the concept of a new film:  Biodiversity in the Heart of the Sky Islands – serving as the Film's Screenwriter, Film Narrator, and on-screen Presenter.  In this new Nature documentary Vincent explores the rich ecology and inherent beauty of key wild areas in the Sky Islands – including looming threats to their ecological integrity, valuable natural resources, and continued survival. Will generations to come have these natural treasures to enjoy or will they be carelessly squandered? Read the  PRT Film Review and enjoy the NPR Radio Interview & Web Article.
YOU CAN NOW RENT THE FILM ON VIMEO:   Biodiversity in the Heart of the Sky Islands
NATURE TREKS
RWWJ offers Nature Treks intended for those who enjoy a more lively pace when exploring the wilds. If you're craving to explore a variety of wild areas – each unique in what it has to offer – then you're definitely in the right place! Treks can be shorter or longer and range from moderate to difficult, depending upon your desired level of difficulty.  Raven's Nest Nature Sanctuary is perfectly located near a wide range of recreational opportunities that are sure to enhance your Sky Islands experience. Starting at our Nature Sanctuary,  we can guide you on a moderate Trek, covering about 5 miles on our varied Nature Trails with very varied terrain.
Our popular RWWJ Nature Treks offer the possibility to cover longer distances while learning about the unique biodiversity of the Sky Islands.  Traveling further, you have an opportunity to discover remote and seldom-visited natural areas that abound in Sky Islands flora and fauna.  Your trek can include walking on established paths, as well as exploring other-worldly off-trail destinations.
RWWJ Nature Treks are possible any time of the year and within all of our southwestern environments – Sonoran Desert, Chihuahuan Desert, Grasslands, Cienagas, Mesquite Woodland, Chaparral, Madrean Evergreen Woodland, Riparian Forests, Mountain Forests, Canyons, or a combination of them.
Our varied and beautiful Sky Island seasons allow intriguing explorations all year long. Regardless of the season, you'll have countless possibilities for RWWJ Nature Treks that reveal the biodiversity and beauty of our region.
During your RWWJ Nature Trek you may choose to focus on a number of different topics which include:
Sky Islands Geology
Birdwatching
General Wildlife viewing
Wildlife Tracks & Signs
Sky Island Invertebrates
Herpetology – Reptiles and Amphibians
Botany – plant identification
Ethnobotany – uses of native plants
General Ecology & Natural History
Wilderness Survival Skills
For guests enjoying the peace and beauty of Raven's Nest Nature Sanctuary at our unique Safari Tented Camp, you simply have to Trek from Jaguar or Ocelot Camp to be surrounded – as far as your eyes can see – by 9000 acres of pristine and remote wilderness. Every season offers different fauna and flora possibilities amidst the vastness of this spectacular wilderness area. Join us at RWWJ and enjoy a very unique wilderness experience and memorable explorations to one of North America's last wild areas!
NATURALIST SAUNTERS
Our highly popular RWWJ Naturalist Saunters focus on learning about Sky Islands biodiversity – its flora, fauna, and fungi. Via a slow and thoughtful walking pace you'll enjoy frequent stops, while learning about a variety of natural history topics. For those desiring to go beyond mere sightseeing and exercise during a walk in the wild, you have many possibilities to choose from.  Seasonal variations, as well as a diversity of habitats present an impressive array of RWWJ Naturalist Saunter choices.
These slow-paced rambles are designed to accommodate most walking abilities.  Whether you are highly fit or rarely walk outside, we have many memorable destinations that you'll greatly enjoy. Given the uniqueness of each mountain range, valley, canyon, stream, and river the variety of Naturalist Saunters possible in our Sky Islands is essentially limitless!
Here is your opportunity to immerse in the natural world and to revel in the fascinating native species that collectively make Arizona's Sky Islands the most ecologically diverse place in the U.S. While enjoying unique Sky Islands flora and fauna you can also scale a majestic peak to enjoy the breathtaking vistas, cool off under a refreshing waterfall, experience an unforgettable sunset, or simply kick back, relax, and enjoy a day spent outdoors breathing fresh air!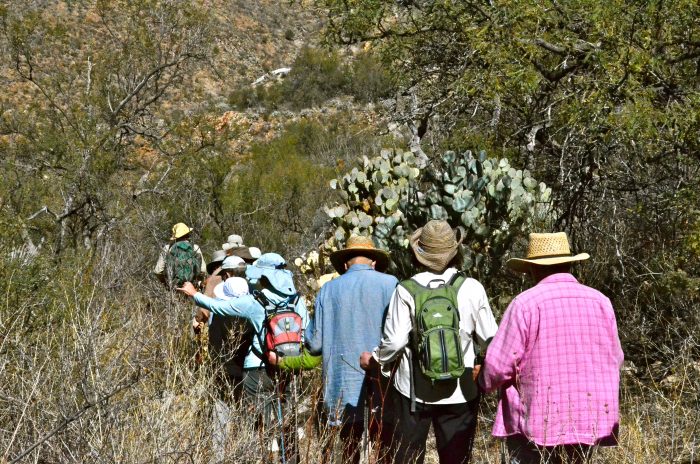 During a relaxed walk you're much more likely to spot an animated troop of White-nosed Coatis (tropical members of the Raccoon family), get a great photo of a spectacular Elegant Trogon, or see the sublime details of colorful butterflies and wildflowers.
RAVENS-WAY WILD JOURNEYS LLC tailors each RWWJ Naturalist Saunter, exploring a myriad of habitats and offering various areas of focus relevant to each Sky Island season.
One of the best ways to enjoy a RWWJ Naturalist Saunter is to custom-make one that suits your exact wants and desires.  You let us know the topic(s), time of year, pace, length, and terrain that best suits you and we'll devise a day or multi-day experience that's sure to satisfy!  Just e-mail us and we'll begin the process of artfully constructing a custom-made RWWJ Nature Adventure for you or your group!
RWWJ Naturalist Saunter focuses can include:
Birdwatching
Mammals
Herpetology – Reptiles & Amphibians
Wildlife Tracks & Signs
Butterflies and Sky Island Invertebrates
Aquatic Ecology
Geology
Botany – plant identification
Ethnobotany – uses of native plants
General Ecology & Natural History
Wilderness Survival Skills
During a RWWJ Naturalist Saunter you have the choice to do an in-depth exploration of one wild area or instead hop between several biodiversity hotspots
 ARIZONA  WILDLIFE  SAFARI
Arizona is a world-class wildlife viewing destination. From diverse deserts to alpine tundra, we boast a truly astonishing variety of natural environments that harbor an equally impressive array of animals. Many of the wildlife species encountered, particularly in our southeastern corner of the state, are found in few or no other parts of the U.S.
Join RAVENS-WAY WILD JOURNEYS LLC private Biodiversity Tours to have genuine chance to experience many species first-hand in the wild, including (** = occurs at Raven's Nest Nature Sanctuary):
Pronghorns
Coues Whitetail Deer**
Mule Deer**
Bighorn Sheep
Collared Peccary or "Javelinas"**
Mountain Lion**
Bobcat**
Coyote**
Grey Fox**
White-nosed Coati**
Ringtail**
American Badger**
4 species of Skunk**
Antelope Jackrabbit**
Black-tailed Prairie Dog
Arizona Gray Squirrel
A huge diversity of Birds – many more typical of Mexico**
Gila Monsters and other fascinating Lizards**
~350 species of Butterflies (for all of Arizona)
A stunning diversity of other Invertebrates
During your Wildlife Safari we will search for tracks and signs of many species, including mammals, birds, reptiles, amphibians, and invertebrates. Finally, we can attempt to call in some species using vocal imitations and several other natural calling devices for the purpose of photography and viewing. We never use any modern gadgets when communicating to wildlife, as they are an artificial disturbance to them and their habitat.  We can also live-trap a variety of small mammals, reptiles, and invertebrates if you would like to see these often reclusive species up close.  We immediately release these animals unharmed exactly where we caught them, providing an intriguing glimpse into many species that often go unnoticed.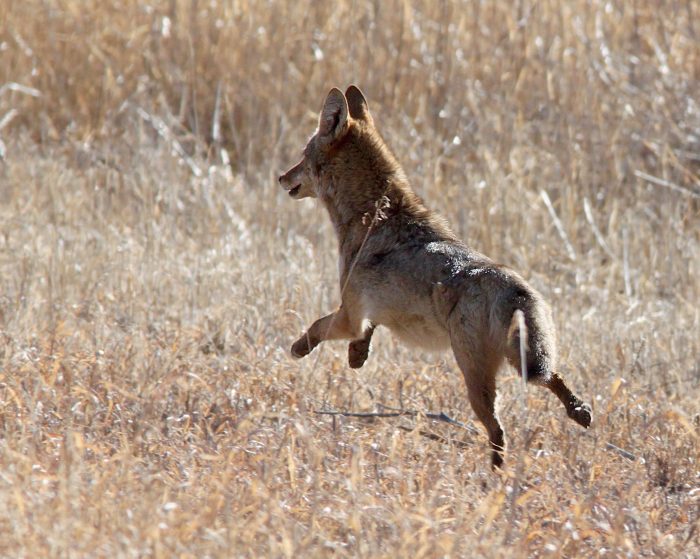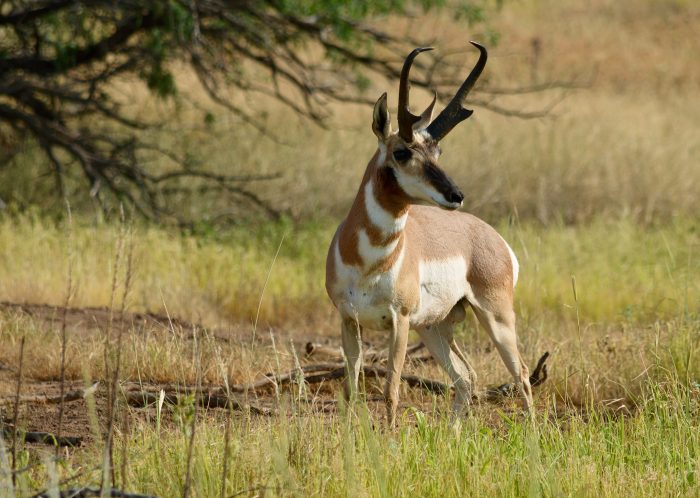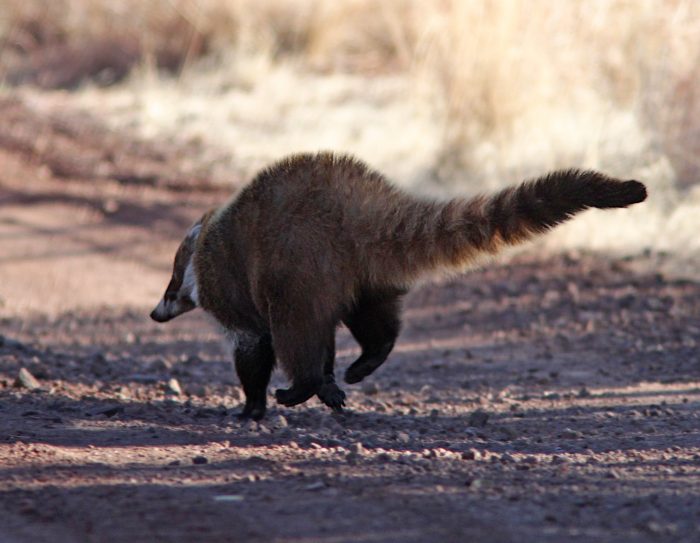 RWWJ Wildlife Safaris can be tailor made to suit your interests with choices among the following topics:
General Wildlife focus, from the largest Mammal to smallest Invertebrate – you want to "see it all"!
Birds
Mammals
Herpetology – Reptiles and Amphibians
Aquatic Arizona – Fish, Amphibians, and Aquatic Invertebrates
Butterflies
General Invertebrate focus
During your Wildlife Safari you'll have ample opportunity to photograph various species, as you desire. Vincent will illuminate the natural history of each species encountered and teach you how best to find, get close to, and safely enjoy them.  Not only will you have an incredible day(s) of seeking and enjoying wildlife, you'll also take away a new array of wildlife-finding skills and countless fascinating wildlife facts to boot!  You may also enjoy our "Sky Islands Biodiversity" slide show as a complement to your Wildlife Safari.
 MONSOON SAFARI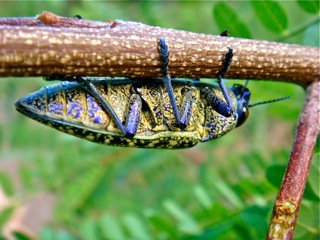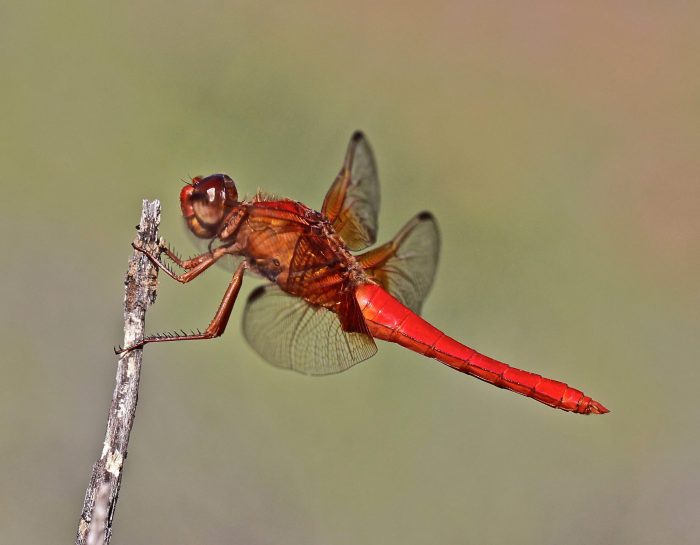 Southeast Arizona experiences a spectacular Summer rainy season that generally occurs between July and September. Approximately 70% of our precipitation on average falls during this timespan, bringing forth a profusion of life that has to be seen to be believed. Suddenly we go from desiccated to deluged and and from sere to sylvan! Join us to discover the wildlife, plants, fungi, and watery displays that burst forth in profusion during our Sky Island Monsoon season.  Rain – when it comes – is most often short-lived, cooling, and rarely influences Nature explorations – except positively!
Wildflowers, colorful breeding birds, insects and other invertebrates extraordinaire, and fascinating "herps" (reptiles and amphibians) are just some of the species you'll meet while exploring the incredible monsoonal biodiversity of southeast Arizona. Whether you are a visitor or a resident of our area during this abundant time of the year, this adventure is sure to inform, delight, and surprise!  You can also enjoy an indoor slide show highlighting the flora and fauna of Monsoon season – "Monsoon Madness!".
ETHNOBOTANY
Ethnobotany – the study of how people use native plants – is a vital foundation for becoming a well-rounded Naturalist.  Here you can explore the plant world in this catch-all class that covers the many uses we humans have for our local, native plants.  Vincent Pinto has a Master's Degree in Ethnobotany over 35 years of experience using native plants across North America and the globe for a variety of purposes.
During an Ethnobotany workshop you will learn how to locate, identify, and use a wide variety of Sky Islands Plants for:
Food
Medicine
Fire-making – without matches!
First Aid
Hygiene
Shelter
Tools
Navigation
Dyes
Musical Instruments
Art
Glues and Adhesives
…. and much more!
Several Stone-age take-home crafts can serve as a reminder of your new incredible wealth of plant wisdom, if you would like this to be a hands-on class.  Truly there is no better way of learning about Nature than actually participating in it!  Not only will you discover fascinating information about plants during your Ethnobotany Adventure, but you'll also explore how ancient people survived and thrived in the southwest during bygone days.  Further, many of the plant uses learned in southeast Arizona are applicable across various regions of the U.S. and beyond.  You can also choose to enjoy an indoor "Ethnobotany: Useful Plants of the Sky Islands" slide show, showcasing the uses of our native plants.
THORNS, STINGERS, & FANGS  – WELCOME TO ARIZONA!
The American Southwest has a reputation as an area replete with daunting wildlife and plants.  During this in-depth look into this topic, you'll learn about a plethora of potentially dangerous flora and fauna, including:
Rattlesnakes
Sonora Coral Snake
Gila Monsters
Poisonous Amphibians
Predatory Mammals
Venomous Mammals
Africanized Bees
Ants, Bees, and Wasps
Kissing Bugs
Desert Centipedes
Spiders
Scorpions
Cacti and other succulents
Stinging plants
Poison Ivy
…and more!
Learn how to enjoy the wilds with these sometimes scary species as neighbors.  During this fascinating Nature Tour you learn to tell the difference between truly dangerous insects, animals, and plants versus those that we unjustly fear.  We'll separate fact from fiction and truth from tall tales, as you learn the etiquette required to safely negotiate the wilds of the Southwest and beyond.
Further, we'll delve deeply into the identification, natural history, and first aid involved with each fascinating species covered.  Not only will you increase your knowledge and safety with each species, you may also discover that you've made a few unconventional friends along the way – just give them a wide berth at times!  This program is also offered  as an indoor slide show combined with an outdoor Nature Walk.
THE ART & SCIENCE OF TRACKING
It has been said that observing Nature while ignoring tracks and signs is akin to only gazing at the covers of books, while never actually opening them!  You'll soon discover this truth for yourself as we delve into the "language of the land" written by the passage of a diversity of wild creatures.  Tracking is a vital skill that lends it knowledge to many other outdoor pursuits.  Professional Wildlife Biologists, Naturalists, Wildlife Photographers, Hikers, and many others will not want to miss this opportunity to relearn the time-honored skills of our ancient ancestors.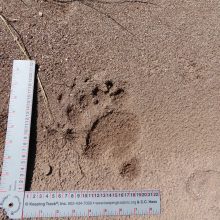 Using science, the art of interpretation, journaling, and various tracking exercises you'll soon be investigating and trying to solve some of the many natural mysteries that we daily encounter.  Gazing at the clues that lie before you, you'll discover new insights into Nature and yourself.  During your Wildlife Tracking Adventure you will search for, interpret, and learn about the tracks and signs of:
Mammals
Birds
Reptiles and Amphibians
Invertebrates
Plants, including ecological tracking for conservation
Various forces of Nature, including weather
Many people find that while they are tracking, both the quantity and quality of wildlife sightings increase tremendously.  Moving slowly and thoughtfully, while interpreting tracks and signs, is a proven way to get close to, observe, and appreciate a broad spectrum of wildlife.  This adventure is best paired with a slide show – "Wildlife Tracking in the Sky Islands".
INSECT & INVERTEBRATE SAFARI
Although most people readily picture any number of large mammals, birds, and reptiles as worthy creatures to see while on a safari, you are much more likely to encounter a vast array of spectacular insects and other invertebrates during your warmer southwestern travels.  In fact, the Sky Islands region is renowned for its insect and other invertebrate (i.e. animals without internal skeletons) diversity, including many species normally associated with Mexico.  Local Invertebrate highlights include:
~350 Butterfly species recorded in Arizona
A spectacular diversity of Moths
Highest Ant diversity in the U.S.
Highest Bee diversity possibly on Earth
A stunning number of Grasshopper species
Mexican Specialty Dragonflies & Damselflies
Beetles galore, including many colorful species
~50 species of Scorpions
Countless intriguing species of Spiders
Giant Centipedes
~65 species of Land Snails, many with extremely limited distributions
Mexican Specialty Insects
Come and see for yourself how rewarding it can be to stalk a beautiful Butterfly, to follow the fantastical aerial gyrations of a Dragonfly, to learn about a myriad of Ant species, or to explore the world of a Tarantula.  These and other treasures await your curiosity and reflection.  This adventure is not only fun, but may well help you to overcome any fears you may have associated with this lilliputian world.  You can also enjoy our "Sky Islands Invertebrates" slide show as part of your experience. To view and download the Raven's Nest Nature Sanctuary Butterfly List, please click: PDF
CORPORATE RETREATS & TEAM-BUILDING
Using a variety of Wilderness Survival and Stone-age challenges we will provide a unique forum within which your company can grow as a team. Stripped of your normal surroundings and cast into the beautiful, but unforgiving realm of Nature your employees will soon learn the value of each other's skills and insights. New bonds, friendships, skills, and respect will emerge as everyone learns how to solve complex problems while enjoying the sublime beauty of the Earth.
During your Corporate Team Challenge your team members will:
Improve your communication skills via a variety of team and small-group exercises
Have an opportunity to both lead and follow as part of a team
Deal with a wide range of mentally and physically taxing challenges that must be solved with innovative and "out-of-the-box" solutions
Be temporarily "handicapped" and thus forced to operate outside their normal comfort zone
Learn to support each other, no matter what the circumstances or challenge
There is a reason that TV is so rife with various survival shows – placing humans in trying circumstances magnifies their best qualities and exposes their weaknesses, allowing for reinforcement of the former and reduction/elimination of the latter.  Let us work with you to custom-make a Corporate Team Challenge that best suits your company's needs.  Give us your areas needing improvement and we'll devise an intricate and complex series of challenges sure to catapult your team to the next level!
If you are simply seeking a relaxing and rewarding experience for your organization amidst the gorgeous Arizona climate, then consider a retreat in our Safari Camp Eco-lodge.  There you can relax together while enjoying the beauty of Nature.  Additionally, we offer a wide range of Nature Adventures for groups to lodge elsewhere to explore the wilds of southeast Arizona's Sky Islands.  We'll custom-make your Corporate Retreat to match the needs of both your organization and your team members.
At Ravens-Way Wild Journeys LLC, we are flexible and offer custom-made solutions for those eager to explore the Sky Islands. Thank you for supporting our Sky Islands Education & Conservation Mission!

RAVENS-WAY WILD JOURNEYS HAS BEEN FEATURED IN: