CHIRICAHUA MOUNTAINS EXPEDITION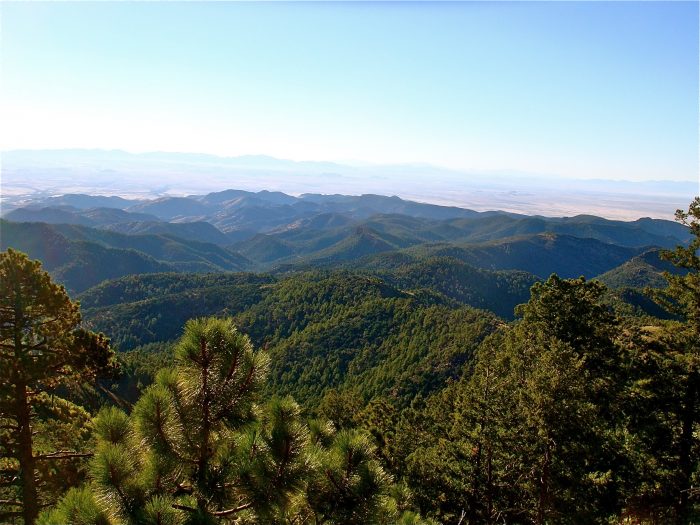 Join Wildlife Biologist, Ethnobotanist, Naturalist, & Wilderness Survival Instructor Vincent Pinto for a Naturalist Expedition into the largest of Arizona's famed Sky Islands. During this exciting 3-day expedition you'll have an opportunity to discover this remote and stunning landscape, including a number of fascinating habitats – from arid Chihuahuan Desert flats, into deep canyons, and up to soaring peaks with incredible views.
Vincent has been exploring, researching, and studying the Chiricahuas since 1990 and intimately knows this spectacular Sky Islands Mountain range.  Rather than visit the busy tourist spots, Vincent will guide you to unforgettable natural areas rich in flora and fauna, as well a geologic history.
This exciting Ravens-Way Wild Journeys experience is intended to introduce you to the Chiricahua Mountains, including:
Geology
General Ecology
Plant Communities
Stream Ecology
Plants
Birds
Reptiles & Amphibians
Mammals
Wildlife Tracking
Butterflies & other Invertebrates
Ethnobotany
Wilderness Survival Skills
Human History
Conservation issues in the Chiricahuas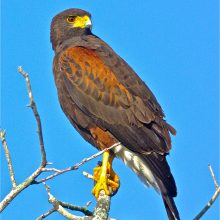 Traveling slowly, Vincent will lead an exciting exploration to a number of distinct and species-rich Chiricahua habitats by day, hoping to see interesting flora, fauna, and fungi.  Plant communities that we'll visit include:
Marshes
Swamps
Chihuahuan Desert
Grasslands
Desert Arroyos
Chaparral
Madrean Evergreen Woodland
Canyon Riparian Forest
Pine Forest
Montane Meadows
Given its proximity to Mexico, the Chiricahuas host an impressive biodiversity, with many species at the northern terminus of their range. Such "Mexican Specialty" wildlife species include:
Elegant Trogon
Buff-breasted Flycatcher
Short-tailed Hawk
Montezuma Quail
Whiskered Screech Owl
Arizona Woodpecker
Magnificent Hummingbird
Mexican Chickadee
Painted Redstart
Jaguar
White-nosed Coati
Madrean Fox Squirrel
Twin-spotted Rattlesnake
Sonora Mud Turtle
Striped Plateau Lizard
….& more!
To increase the chances of seeing all the local wildlife, Vincent will keep the walking pace slow most of the time. Occasionally, there will be times when  you will have to pick up the walking pace up a bit in an effort to stay on schedule. The terrain will vary with some ups and downs and a few steeper hills, but never any real mountain climbing. Be prepared for some elevation changes, as we drive between various destinations.   Elevation changes within any one walk will be minimal – several hundred feet at best.  Walking at the highest elevations will be accordingly slower, allowing all to go at a reasonable and safe pace. Vincent always adjusts the pace to the group's needs and abilities.
Included in your itinerary is a visit to Raven's Mountain Nature Sanctuary, which Vincent has owned and managed since 1993.  The preserve is situated on a dramatic foothill with a 600′ elevation change and Portal Peak looming over it at 8,500′. These 50 acres of Grasslands and Chihuahuan Desert Scrub support a variety of species and represent an important, local habitat link for a variety of native plants and animals.  Vincent has worked tirelessly over the years to remove nonnative species and to protect this vital wildlife habitat.
Along the way you will also have an opportunity to enjoy a brief stop by the Chiricahua Desert Museum, which showcases various rare reptiles in particular.  The natural history book selection at the museum is impressive, as are the birds at their outdoor stream and bird feeding stations.
After each day of wilderness explorations the group will enjoy a hearty dinner together at the Southwestern Research Station, followed by an Evening Program.  The first night Vincent will focus primarily on Astronomy during a Starry Safari Tour of the spectacular sky.
The very dark skies of the Chiricahuas present world-class Astronomy opportunities. Vincent will lead the group on a short walk to an area with good open skies where he will guide you through the visible heavens, including:
A constellation tour
The visible planets
Any meteors
Navigation by night
Ancient sky stories and mythology
The second Evening Program will focus mainly on Owls and other nocturnal species.  Arizona is home to 12 species of Owls, many of which can been seen and heard in the Chiricahuas.  During our April 2016 expedition detected 5 Owls species – an impressive number:
Whiskered Screech Owl
Great Horned Owl
Northern Pygmy Owl
Elf Owl
(Mexican) Spotted Owl
Wildlife Biologist & Owl Researcher Vincent Pinto will not only help you to find and identify Owls, he'll also discuss their natural history, including diet, nesting ecology, and potential predators.  Beyond Owls, the group will also have a good chance of seeing and hearing other nocturnal species, including:
Common Poorwill
Mexican Whip-poor-will
Mountain Lion
Bobcat
Coyote
Grey Fox
Northern Raccoon
Ringtail
Black Bear
American Badger
Coues Whitetail Deer
…and more!
After each afternoon Naturalist Saunter ends, you will also have some free time to relax, freshen up, or explore even more on your own prior to dinner at the SWRS. Given that the Southwestern Research Station is situated directly in the heart of the Chiricahuas, you need merely to step outside in order to immerse yourself in Nature!
The Chiricahua Mountains are renowned not only for their biodiversity, but also their spectacular rock formations, and multi-varied rocks and minerals. Therefore, during your comprehensive Naturalist's Saunters we'll also search for a wide range of fascinating geologic features in the area.  Throughout this unique experience, Vincent will also frequently cover Ethnobotany – the human uses of native plants – including species useful for food, medicine, tools, fire-making, shelter, dyes, music, and more.  In addition, Vincent will look for and opportunistically Track local wildlife whenever you encounter their prints or other signs. Fascinating Day & Evening Nature Programs await you in this secluded and pristine wilderness!
For those interested in keeping track of what we see each day, Vincent will provide a detailed recap of the wildlife spotted via species lists at each dinner.  At the conclusion of your Chiricahua Nature Expedition, RWWJ will e-mail you a final and complete list of wildlife, including: Birds, Mammals, Reptiles, Amphibians, Butterflies, and other notable Invertebrates.
For example, in early April 2016, a very impressive species list was recorded during the 3-day Naturalist Expedition:
105 Birds
9 Mammals
2 Reptiles
5 Butterflies
To view the species list recorded in April 2016 Click: 2016 List.
To view the species list recorded during the expedition that Vincent led at the end of March 2017,  click:  2017 List  .
The species list includes:
81 Birds
7 Mammals
2 Reptiles
9 Butterflies
28 Wildflowers
To view the species list recorded during the expedition that Vincent led at the end of March 2018,  click: 2018 List .
To view the species list recorded during the expedition that Vincent led at the end of March 2019,  click: 2019 List
LODGING
During your Chiricahua Nature Expedition you'll enjoy staying at the acclaimed Southwestern Research Station.  Owned and run by the American Museum of Natural History, the station annually hosts a wide range of research scientists, studying an equally impressive array of local species.  Biologists from all over the globe flock to the biodiversity of the Chiricahuas to study within their respective disciplines.
The RWWJ group will be lodging at the SWRS for 2 nights.  Rooms at the SWRS can be set up with two single beds or one King bed. Please indicate your preference in their Registration Form. You have the following options to choose from:
DOUBLE occupancy –  can be set up with two single beds or one King bed
SINGLE occupancy – a twin bed is the only option
The triplex rooms have private baths, a kitchenette area with small refrigerator/freezer, and a microwave. They also have coffee makers and filters, but not coffee or tea. If you wish to enjoy them in your room, please bring them with you. Otherwise early coffee/tea is served on the dining hall porch before breakfast each morning.
Linens are provided for each guest (blankets/sheets and towels).
The RWR Station is located in a mountain canyon at 5400 feet.  RWWJ will send you a suggested Packing List to help you pack accordingly, and bring warm layers for the Evening Programs and when exploring higher elevations.
The reservoir has a light thermal and stays approximately 70-80 degrees year-round. If you plan to swim, please bring a pool towel with you. The SWRS provides linens for the rooms only.
CELL PHONE USE
Given their remote location, there are no phones in the rooms and cell phones do not work at the Research Station. However, you may be able to use your cell phone by driving into Portal where there is limited service or by using internet calling on the station wifi. Wireless internet service is available at the Station, and there is good coverage around the buildings.
In the event of an emergency, there is a phone on the wall of the kitchen and there is another phone at the end of the Dining Hall porch by the computers. You may use either phone to dial 911 and report the emergency when staff is not available. For personal calls all guests are encouraged to use the phone in the Dining Hall porch. You will need to purchase a phone card from the Nature Shop or the Office when placing long distance calls.
SERVICES
The pool will be accessible to guests and runs at a constant 72 degrees as it is fed by a natural spring. If you would like to swim early in the morning before the breakfast, please bring your own pool towels, as the SWRS linens are not to be taken out of the rooms.
The SWRS Nature Shop is open Wednesday through Saturday from 8:30am to 12:00pm and again from 1:00pm to 4:30pm. They carry supplies that range from t-shirts to nature books, snacks & beverages, and a handful of over-the-counter medicines.
Please note that there are no hairdryers in the rooms. If you need to use one, please plan to bring it along.
SPECIAL SWRS REQUEST:  NO perfumes or colognes are to be worn during your stay at the Research Station!
To download and print the 2020 SWRS Welcome packet click: SWRS
To download and print the SWRS grounds Map click: MAP
During our time at the SWRS the group will will have access to their facilities, including:
Their expansive grounds, covering many wild acres
A beautiful, flowing stream – a tributary of Cave Creek that attracts local wildlife
The pool which is fed by the natural spring
Hummingbird feeders
Picnic tables
A small, but well-stocked gift shop with a diversity of field guides and wildlife art
MEALS
Meals are served cafeteria style at the SWRS Dining Hall. For our group the meals will begin with Dinner on the first day, through Lunch on the third day – for a total of 6 Meals.  On the first day, you are responsible to bring your packed lunch to eat en route in the field.
The SWRS offers simple vegetarian, no red meat, and omnivore options, and request that you indicate any food allergies in advance on the SWRS Registration Form, and also remind the cooks upon arrival. They will steer you away from dishes being served that might contain your food allergen. You may want to bring snacks to enjoy in the field.  If you have food allergies that cannot be addressed by a vegetarian or no red meat menu, please feel  free to bring supplemental food to complement their hearty and plentiful food offerings.
You are also welcome to bring your own beer, wine, or other beverages to enjoy with your evening meal in the Dining Hall. Given their remote location,  the SWRS does not have recycling, therefore, please plan to take all cans/bottles with you to recycle elsewhere.
The group will always enjoy breakfast and dinner together in the research station's comfortable dining hall or just outside it at picnic tables, as weather and interests dictate.
After breakfast you will construct your own lunch from the sandwich fixings and other foods set out after breakfast.  In order to maximize our time exploring the wilderness, our group will always enjoy lunch in the field.
MEAL TIMES:
Breakfast: 7:30 am
Lunch: In the field every day
Dinner: 6:00pm
SWRS LODGING & MEAL RATES
DOUBLE Occupancy: TBD
SINGLE (private) Occupancy: TBD
The SWRS is a not for profit Organization, therefore taxes will not be added.
SWRS LODGING & MEALS DEPOSIT
A $40 per person deposit paid directly to the SWRS is required to hold your room. The Deposit will be applied to your invoice, which has to be paid upon Check-Out. FYI, the SWRS only has 7 rooms available, therefore, it is best to register with us ASAP to guarantee your spot.
To download and print the SWRS Application Form please click here: SWRS REGISTRATION FORM
If you need to cancel, please notify RWWJ vie email and give at least 2 weeks notice to be able to offer your spot to those in the Waiting List.  The SWRS has a 72 hour notice so you do not forfeit your deposit. Your credit card will not be charged the $40 per person deposit unless you fail to give proper notice.
RWWJ TUITION
The Tuition for 3 full Day & Evening Programs with an expert Wildlife Biologist, Professional Birder, Naturalist, Ethnobotanist, Wilderness Survival instructor, and Amateur Astronomer as your guide  is $600 per person, and it is paid directly to RWWJ by check.
RWWJ REGISTRATION
1. Please be advised that every Participant needs to complete a WAIVER & REGISTRATION Form. To download please click:  RWWJ REGISTRATION FORM & RWWJ WAIVER FORM
Please include any pertinent medical issues and current medications, as well as valid Emergency Contact information on the Registration Form.
2. Please send both Registration Forms back to us along with your Tuition check to:
RAVENS-WAY WILD JOURNEYS LLC
P.O. Box 393
Patagonia, Arizona, 85624
The 2016 Chiricahua Nature Expedition was such a resounding success, that several participants are returned again in 2017 and 2018!  Although Vincent will visit a few of the same hotspots every year, he will guide the group on a very different exploration each year. There are endless options to discover in the Chiricahua Mountains to new and exciting locations that promise very different expeditions. Join RWWJ for a very unique experience, and a memorable, fun, and informative expedition to the breathtaking Chiricahua Mountains!
GUEST REVIEWS
I had just moved to Arizona, when I went on the Chiricahua Nature Trip with Vince. In three days we covered so very much–nature walks, birding, plant identification, astronomy, tracking–as well as seeing the most unique rock formations. My favorite experience was when Vince used his bird calls to bring a tiny owl into the tree above our heads. Amazing. Vince's encyclopedic knowledge of so many areas of eco-biology and his stories about his own nature experiences are very interesting and educational. I learned so much and so thoroughly enjoyed myself that I have planned another nature trip with him this year.
Margalis F.,Green Valley, AZ.
—————————————————————————
My three-day trip with Vincent to the Chiricahuas was an awesome adventure and learning experience. The mountains are so diverse and beautiful. Vincent is very passionate and so knowledgeable about nature. There was so much to do and learn – owling stargazing, plant identification, geology, etc. He tunes us into nature. It was such a fun and learning experience that I am returning again with Vincent in 2017.
Linda W., Alaska
————————————————————————-
I just wanted to take a moment to tell you how much I enjoyed the Chiricahua Mountain trip last year. Being so new to SE Arizona, this trip really helped me to start to understand the Sky Islands and their flora and fauna. Thinking back to those 3 days I have to say that it was a wonderful experience in so many ways. The pace was just right and the learning opportunity was excellent. Of course, being a birder, the 100 plus birds we saw was a delight as well. I have to add that staying at the Southwest Research Center was a pleasant surprise. The accommodations were very comfortable and the food was excellent. Of course, the opportunity to be so close to nature really can not be measured. There is such a peace to the soul when you are there.
So – needless to say – I am looking forward to the next trip in March. I've been looking forward to it for some time.
Barbara D., Green Valley, AZ.
————————————————————————–
 I thoroughly enjoyed the Chiricahua experience and learned a great deal. Not having Vincent's encyclopedic mind, I will never remember all the plant names! But it is such pleasure to have my attention drawn to them, their special qualities and uses. In the same way, I loved learning new things about insect, reptile, bird, and mammal identifications and behaviors. Last but not least, it was fascinating to learn more astronomy, geology, and geography.
Vincent always goes to extra lengths to be sure each and every person is more than satisfied on these nature adventures. Our trip through that gorgeous territory along Rucker Road is the most recent example of his going the extra mile to please!
Thanks so much to both of you for the wonderful Chiricahua experience; Vincent for sharing your knowledge and the pleasure of your company, and Claudia for such perfect planning. The accommodations and meals at SWRS were just right. We only wish you could have been with us, Claudia!
Kathy W., Green Valley, AZ.
———————————————————————————
I want to thank Vincent and Claudia for making our recent sojourn in the Chiricahuas such a wonderful adventure. Although Kathy and I have been there several times, we saw and experienced so much more with Vincent's guidance. I really liked seeing the various mortar pot locations at Bread Rocks as well the walk to them with explanations about the plants along the way as well as the bird sightings. I especially liked sampling some of the edible plant varieties—something I would not try on my own! Although I have hiked in that area, each days walk took us to a new place to me with lots of discoveries from birds to plants to geological formations. Our night of stargazing was very informative and despite getting only a few return owl calls, I thought Vincent's herding of the hooded skunk up the canyon road was a show not to be missed. The SWRS has very nice accommodations and the food was great! I would go back there again. The whole package was a very positive experience. Vincent is extremely knowledgeable and has a great ability to change the course of the planned activities to accommodate the weather and the folks on the trip.
Kudos to you both for putting this together. Thanks again for a wonderful few days in the Chiricahuas.
Mary Lou B., Green Valley, AZ.
——————————————————————————-
Bill and I spent the dinner hour just now going over maps and reminiscing about the wonderful experiences we had on the trip to the Chiricahuas. Have to admit that we had no idea what to expect. But it turned out to be quite a lovely adventure. We especially enjoyed seeing your land and hearing some of the challenges and victories that land has brought to you. And it was such a delight to hear the pigmy owl answering Vincent on day 3. So many high spots. Wonderful trip!
Thank you for such a unique and memorable adventure. We loved it!
Pat and Bill M., Green Valley, AZ.