UNIQUE SAFARI TENTED CAMP BY PATAGONIA LAKE, AZ
If you are searching for a unique, fun, and memorable way to savor the beauty and majesty of Nature, then consider staying at our African-style Safari Tented Camp. Set in the amazing Sky Islands of southeast Arizona amidst a secluded and engaging Mesquite Woodland, you'll enjoy amazing luxuries while in the embrace of the Earth. Wake up to the songs of countless birds. Dine under a blue sky our under the stars on our gourmet organic food, which includes seasonal wild delicacies and organic produce from our gardens and orchard. Explore one-of-a-kind wild areas to your heart's content. Wander over 6 miles at our groomed Nature Trails at Raven's Nest  our private, 42-acre Nature Sanctuary by Patagonia Lake.  Custom-make your own Nature Adventures while surrounded by over 9000 acres of pristine wilderness in Sonoita Creek State Natural Area, just a short walk from Raven's Nest. Enjoy that book you've been itching to read. We'll work with you to ensure that you have the exact Nature retreat you've been craving. The choices are as varied as they are exciting!
ARIZONA'S SKY ISLANDS
The Sky Islands of Arizona are truly a natural wonderland, filled with surprisingly diverse landscapes and amazing flora and fauna.  Towering and dramatic mountain ranges lie like forested "islands" – each with a distinct complement of wildlife and plants – isolated from each other by intervening "seas" of deserts and grasslands.  The Madrean Archipelago is the most diverse temperate Sky Island in the world.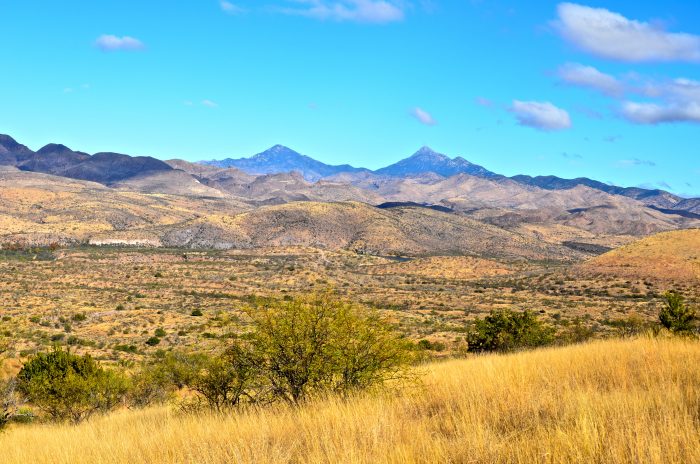 With only about 20 such Sky Island complexes known on Earth, we are truly in an exclusive category!  Here you can experience our world renowned biodiversity firsthand, including:
18 Hummingbird species – more than anywhere north of Mexico 
About half of the Bird species recorded in the U.S. 
The most Reptile species in North America 
The most Mammal species in the U.S. 
20 species of Amphibian species 
Over 2000 species of Plants
Further, many of our local species are found in few or no other places in the U.S. White-nosed Coati, Collared Peccary, Elegant Trogon, Gray Hawk, Sonoran Toad, and Desert Tortoise are but a few of the unique wildlife species you may encounter while exploring the Sky Islands. While you're unlikely to see them, we've also made international news of late with multiple Jaguar and Ocelot sightings nearby. These tropical cats remind you that a trip here is essentially an exploration of northern Mexico – minus all of the hassle. You may choose Nature Adventures in the Sonoran Desert, Chihuahuan Desert, lush Grasslands, swamp-like Cienagas, Chaparral, Madrean Evergreen Woodland, Pine Forest, and even Spruce-Fir Forest reminiscent of Canada. Truly there is something for everyone here!
RAVEN'S NEST NATURE SANCTUARY LOCATION
Our Safari Tented Camp is set in the mountains of southeast Arizona near the quaint town of Patagonia and a few minutes drive from Patagonia Lake State Park.  Strategically located by over 9,500 acres of pristine wilderness for your discovery and enjoyment, our Nature Sanctuary offers a unique opportunity to disconnect, recharge, and relax! For details, please visit:Raven's Nest Nature Sanctuary
All of this and more in an area with a bewildering choice of wild areas to explore. A few examples include: The majestic Chiricahua Mountains, Las Cienagas National Conservation Area, Coronado National Memorial, Sycamore Canyon, Patagonia Lake State Park, Sonoita Creek State Natural Area, The Anza Trail, Aravaipa Canyon, Buenos Aires National Wildlife Refuge, San Bernardino National Wildlife Refuge… The list goes on!  In addition to time spent at one or both of our Nature Sanctuaries –  Raven's Nest and Raven's Mountain  you may greatly enjoy venturing into one or more of these or other nearby wild areas. Just tell us what you would like to see, experience, and learn and we can be your guides for an incomparable vacation.
DRIVING DIRECTIONS
FROM TUCSON INTERNATIONAL AIRPORT
Raven's Nest Nature Sanctuary  is just a mere 75 minute drive from Tucson and its international airport.  Once you leave I-10 on exit 281 and follow  AZ-83S towards Patagonia, you will be transported to another world as you take this scenic mountain view drive through wild land as far as your eyes can see. After we confirm availability and you complete the Reservation process, we will send you detailed Directions to Raven's Nest Nature Sanctuary. We are also happy to arrange transportation for you, depending upon your needs. Please do not hesitate to let us know your preference.
FROM PHOENIX INTERNATIONAL AIRPORT
Raven's Nest Nature Sanctuary is just 3 hours south from Sky Harbor International Airport in Phoenix. You will take I-10 East through Tucson and proceed to exit 281. You will then follow the breathtaking AZ-83S towards Patagonia, enjoying the scenic mountain view drive to Patagonia Lake State Park. After we confirm availability and you complete the Reservation process,  we will send you detailed Directions to Raven's Nest Nature Sanctuary. We are also happy to arrange transportation for you, depending upon your needs. Please do not hesitate to let us know your preference.
OUR DIVERSE SEASONS
Despite persistent rumors to the contrary, we do indeed have distinct seasons in the Sky Islands – 6 in fact! Based at 4000 feet in elevation, Raven's Nest Nature Sanctuary  affords you a wide range climatic of choices for your vacation or retreat. All of our seasons have their charm and we'll help you decide when exactly to visit the Sky Islands. Exciting Birding and Nature Adventures are offered all year long and we are happy to tailor an experience to meet your exact needs and preferences!
 OUR WINTER
Starting in December, we often receive cooler weather heralding in our mild Winter season. In late December our daytime highs range from the mid 60's to low 70's, with nighttime lows in the high 20's to high 30's. Gentle Winter rains occasionally pervade the region, especially during an "El Nino Winter", leading to sometimes spectacular wildflower displays during Spring. Rarely, we have enjoyed a great winter surprise at Raven's Nest Nature Sanctuary – a welcome and delightful dusting of snow in December – generally gone by noon.
In January sunny days with blue skies are the norm at Raven's Nest Nature Sanctuary. Our daytime highs average around the mid 60's with nighttime lows ranging from high 20's – mid 30's. Gradually the temperatures increase daily. February is usually very sunny with daytime temperatures in the high 60's or low 70's – very pleasant for Winter – with nighttime temperatures in the low – high 30's.
Some Winter highlights include:
The arrival of many wintering Ducks and other waterbirds
Spectacular celestial viewing – stars, planets, and deep sky objects
The emergence of spring wildflowers in late February
 OUR WET SPRING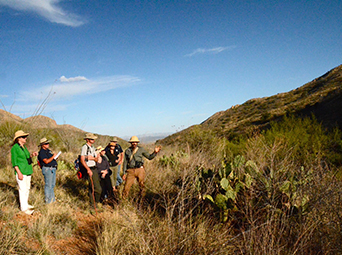 Starting anywhere from mid-February to the end of March or so we often have a relatively lush Spring. The occasional rains of Winter may continue even into May in some years, while dozens of species of wildflowers carpet Deserts and Grasslands alike. Temperatures in March fluctuate from the mid – high 70's during the day and the high 30's – low 40's at night.
Some Wet Spring highlights include:
The blooming of dozens of species of spring annual and perennial wildflowers, sometimes spectacularly carpeting the ground
The influx of some Mexican Specialty bird species, such as Gray Hawk and Elf Owls
OUR DRY SPRING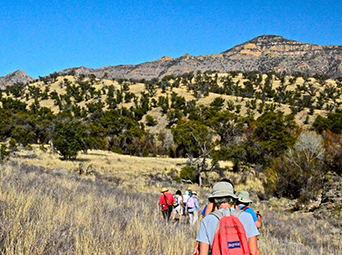 Late May through June generally see daily highs in the 90's or, rarely, the low 100's. Again, drier conditions and cooler nights with temperatures in the mid 60's – mid 70's make such days quite tolerable. Frequent trips to gorgeous nearby mountain ranges provide glimpses into our amazing biodiversity and cooler daytime temperatures.
Dry Summer highlights include:
Blooming Prickly Pear, Cholla, and other succulents
Fewer people in southern Arizona in this "off-season", offering even more solitude
Discount rates at our Safari Tented Camp Eco-lodge June – August
Emergence of some Monsoon season species, including many fascinating Invertebrates
Arrival of late bird migrants, including Varied Bunting, Blue Grosbeak, and Yellow-billed Cuckoo
OUR AWESOME MONSOON SEASON
At the end of June and the beginning of July we usually start to see a significant rise in our humidity levels, which, along with the continued high temperatures, lead to building storm clouds. This is the beginning of the Monsoon season or Wet Summer! The arroyos at Raven's Nest fill periodically with much anticipated rain and slowly our gorgeous Nature Sanctuary turns lush, green, and abundant!
From about July 4th through the end of September we often have conditions conducive for brief, though sometimes significant and beautiful thunderstorms. It is now that life – both plants and wildlife – truly begin to flourish in the Sky Islands!  In July our daytime highs reach the high 80's to the high 90's, with nighttime lows in the mid to high 60's. Daytime highs during August, the peak of Monsoon season can vary quite a bit from hotter days reaching into the 90's to other periods where 80's are more the norm. Nighttime lows in the Safari Camp usually hover around mid  – high  60's – very pleasant sleeping weather. Each storm or cloud cover brings with it very amenable, cooler temperatures. Guests are often pleasantly surprised at the lushness and beauty our monsoon season!
Peak fall migration occurs in August and September for many bird species, while summer wildflowers lend their beauty to an already lush season. By the beginning of September, daytime highs settle into the mid 80's to low 90's with night temperatures in the low to mid 60's.
By the end of September temperatures usually settle into the high 80's for daytime highs, while nights range from the high 50's to mid 60's.  The lushness of Monsoon season is still in evidence!
Monsoon season highlights include:
A diversity of colorful wildflowers
Nesting birds – some on their second or third nest!
Peak reptile diversity, including many Lizards
Breeding Frogs and Toads
Coues Whitetail and Mule Deer give birth
Peak Autumn Bird migration in August and September
OUR FALL
During years when we are fortunate to enjoy an abundant Monsoon season, the amazing lushness is still in evidence at the beginning of October, when a few late storms may add to it. October is a beautiful month with more stable and predictable weather, as rains cease to enter our area.  Daytime temperatures usually settle between the low – mid 80's, while nights range from the mid – high 50's.
November is often our driest or second-driest month and can experience rather large temperature swings. Early November daytime temperatures usually settle between the high 70's -low 80's, while nights range from the mid 40's – mid 50's.  Thanksgiving temperatures are in the low 70's, while nights range from the low to mid 40's.  December is often our coolest month and along with November can experience rather large temperature swings.
Autumn highlights include:
Migrating birds aplenty, including the influx of some wintering species
Blooming members of the Aster family
Fall colors on a variety of deciduous trees
Peak abundance of Wild Edible Plants in our harvest season
The season best suited to your visit of course depends on many factors. What time slots do you have available?  What are your goals for the trip?  What's the climate like at your own home?  What type of wildlife and flora would you like to see?  Would you like to schedule any Nature Adventures with us? Talk with us and we can help you to sort it all out!

RAVENS-WAY WILD JOURNEYS HAS BEEN FEATURED IN: