WORLD BIRDING HOTSPOT!
Are you an avid birdwatcher or would you like to learn more about birds? If so, consider visiting us for a day or more to explore the sublime natural wonders of southeast Arizona and their accompanying avian diversity. Birdwatching is now hugely popular throughout the world, including the U.S.  So, whether you're a seasoned "birder" wanting to add new species to your life list or a neophyte looking to get started, you're sure to delight in the winged wonders of one of the most popular birdwatching destinations on Earth – Arizona's Sky Islands.  It's no wonder that the first destination in The Big Year (a recent Hollywood movie about birding) was Patagonia Lake State Park – a mere 5 minutes from our Raven's Nest Nature Sanctuary! To view and download a recent Audobon article, please click: PDF
RAVENS-WAY WILD JOURNEYS  LLC is strategically located within a region known as the "Sky Islands" – rightly famed as a biological crossroads and biodiversity hotspot.  The term "Sky Islands" derives from our numerous lofty and isolated mountain ranges, punctuating an overall flatter landscape. Thus, moist forested mountain "islands" are separated not by water but by "seas" of drier and intervening deserts and grasslands. The isolating effect of these more foreboding habitats is palpable and evident to a keen observer. Within a relatively small distance you can encounter wildlife, including birds, that varies more than in any comparable area in the U.S.  Learn about Vincent's new film  – Biodiversity in the Heart of the Sky Islands .
YOU CAN NOW RENT THE FILM ON VIMEO – Biodiversity in the Heart of the Sky Islands
The Sky Islands are situated at a biological convergence zone where a variety of disparate biomes meet – each lending their respective diversity to the region. Here, the temperate Rocky Mountains meet the subtropical Sierra Madres and Tropical Thornscrub of Mexico. Also, the higher, cooler Chihuahuan Desert converges with the warmer, lower Sonoran Desert. Even the Great Plains exert an influence upon the Sky Islands.
The meeting of these diverse biomes combined with a relatively low latitude (around 32 degrees – similar to North Africa) and a great range of elevations results in a phenomenal mix of flora and fauna! Bird diversity in particular is extraordinary, as you will see, and includes many unique and regional species. Reptile, Mammal, Invertebrate, and Plant diversities are correspondingly high as well, making for great overall wildlife and Nature viewing.
Over half of the bird species regularly found in North America have been recorded the U.S. portion of the Sky Islands!  Indeed, some of the most sought-after birds in North America are found in southeast Arizona. Many of these are dubbed "Mexican Specialties", as they barely make it into Arizona's Sky Islands from Mexico and are normally found no further north.
  Our avian diversity includes:
18 species of Hummingbird
12 species of Owl
~23 species of Hawks and Vultures
13 species of Woodpecker
~30 Flycatcher species
7 Vireos
8 Corvids
8 species of Wren (all of Europe has only 1!)
3 species of Gnatcatcher
9 species of Mimic Thrushes
~10 Thrushes
~33 species of Warblers
 ~36 species of Sparrows & Towhees – the most in the world!
While traveling from one Sky Island range or valley to another on a Sky Islands Birding Hotspots Tour with us you may expect an overlapping, yet different bird list for each place. For example, Cactus Wrens, Crissal Thrashers, and Roadrunners make a living in the drier zones while Elegant Trogons, Painted Redstarts, and Flammulated Owls lurk in the forested canyons and woodlands of the mountains.  Further, some bird species "lean" east or west, north or south within southeast Arizona, adding local diversity to an already wonderfully bird-laden place!
Significantly, from the east the Great Plains sweep into the area, providing a number of bird species, such as wintering Longspurs, post-breeding Lark Buntings, and breeding Grasshopper Sparrows – all characteristic of grasslands. A trip to our scenic grasslands may seem like a journey to the distant prairies of the Central U.S.! In fact the musical Oklahoma! with its lush, sweeping vistas was filmed only a short drive from Raven's Nest Nature Sanctuary!  Nearby northern Chihuahua even boasts a reintroduced herd of American Bison as well as large colonies of Black-tailed Prairie Dogs!
The Chihuahuan Desert similarly skirts the eastern edge of the Sky Islands, providing a characteristic flora and fauna – especially in the easternmost ranges, such as the Peloncillos and Chiricahuas. Scaled Quail, for example, can be found in our area owing to this connectivity with the Chihuahuan Desert.
Rivaling the beauty and surpassing the overall biodiversity of this higher, cooler desert is the lower, hotter, and subtropical Sonoran Desert to the west. Here, LeConte's Thrashers, Gila Woodpeckers, Ferruginous Pygmy Owls, and Elf Owls take good advantage of the rich plant species assemblages in this incredibly diverse desert. A variety of birds nest in the spectacular Giant Saguaro, so characteristic of many Sonoran Desert scenes.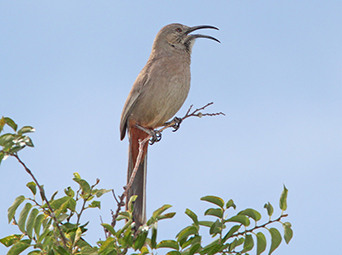 Meanwhile, the Rocky Mountains trickle their decidedly temperate influence down from the North. Thus, one can find Mountain Chickadees in the Pinaleno Mountains or, occasionally, Clark's Nutcrackers in the Chiricahuas. Towering Spruce-Fir Forests in particular harbor many north- temperate bird species, including Red Crossbills and Red-breasted Nuthatches. Standing in these majestic coniferous forests, the scenery seems more reminiscent of Canada than of Arizona! These seemingly enigmatic forests are the perfect place for a cool Summer birding trip or a wintry wonderland during the cooler months.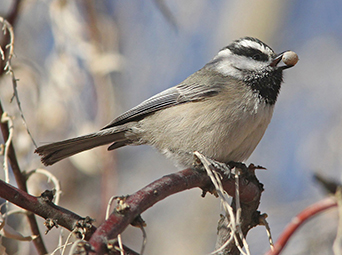 Finally, and perhaps most significantly for the bird enthusiast, are the 2 southern biome influences that permeate the Sky Islands from Mexico. The Tropical Deciduous Forests of Sonora are but a day's trip south of the border, where such flamboyant bird species as Russet-colored Motmot and Blue-Winged Parrotlet make their home. The colonial town of Alamos is a wonderful place to visit this northernmost extension of the Neotropics. To the east loom the Sierra Madre Mountains, where many exotic bird species inhabit the multi-varied habitats stacked upon this extensive cordillera. A journey from the rim of famous Copper Canyon to the bottom – deeper than the Grand Canyon – transports you from Fir and Pine Forest down to Palm-lined canyons replete with Military Macaws and huge Morpho Butterflies!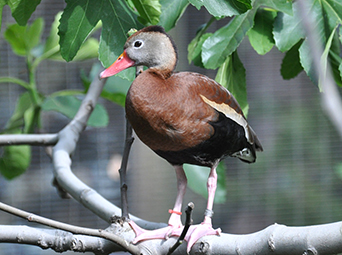 YOUR GUIDE: VINCENT PINTO'S BIRDING EXPERIENCE
Vincent began his Sky Islands birding career during a Master's level study of the state-endangered Gould's Wild Turkey (the largest subspecies) in the rugged Peloncillo Mountains, straddling New Mexico, Arizona, and Mexico. It was 1987 and he soon fell in love with the Sky Islands. Despite several sojourns as a Naturalist and Wildlife Biologist elsewhere in the states, he quickly returned to southeast Arizona, purchasing Raven's Mountain Nature Sanctuary in 1993. In addition to teaching for a variety of education institutions in the Southwest, Vincent also felt privileged to study both Mexican Spotted Owls and Southwestern Willow Flycatchers, and and Western Yellow-billed Cuckoos, adding to his already extensive birding knowledge.
Passionate about the urgent need to protect the area's unique biodiversity and promote conservation efforts in the region, Vincent came up with the concept of  a new film: Biodiversity in the Heart of the Sky Islands – serving as the film's Screenwriter, Film Narrator, and on-screen Presenter. In this new Nature documentary Vincent explores the rich ecology and inherent beauty of key wild areas in the Sky Islands – including looming threats to their ecological integrity, valuable natural resources, and continued survival.  Will generations to come have these natural treasures to enjoy or will they be carelessly squandered?
YOU CAN NOW RENT THE FILM ON VIMEO – Biodiversity in the Heart of the Sky Islands
Vincent's credentials include (click here to read Vincent's Bio)
B.S. in Wildlife Biology (Univ. of MT)
M.A. in Ethnobotany (Prescott College)
Wildlife Research projects, including:
Bering Sea Fish
Mexican Wild Turkey (Mater's level research project)
Wildlife impacted by I-97 in Maryland
SW Willow Flycatcher
Northern Spotted Owl
Mexican Spotted Owl
Western Yellow-billed Cuckoo
Reptiles & Amphibians in Missouri
A broad spectrum of species in Utah's Stansbury Mountains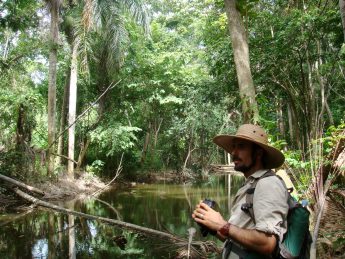 Prior to founding RAVENS-WAY WILD JOURNEYS LLC, Vincent's first birding experience was at the age of 12 on a family trip to Florida. He soon began watching birds intently nearer to home in Philadelphia's Pennypack Park. In addition to his work as a professional Wildlife Biologist Vincent has also birded in 25 states, as well as in: Canada, Mexico, Jamaica, the Dominican Republic, the Bahamas, Bolivia, Japan, Singapore, Australia, Botswana, France, Scotland, Iceland and Italy. Thus, he brings an extensive knowledge of birds to all of his programs. Despite the wide array of topics that he teaches, Vincent always remembers his first love – birds! To view and download an Audubon article, please click:PDF
BIRDWATCHING AT RAVEN'S NEST NATURE SANCTUARY
Raven's Nest, our 42-acre Nature and Wildlife Sanctuary, is well situated for birdwatching within the Sky Islands region. We're located only 75 minutes from Tucson with spectacular scenic views of the Sky Islands and Mexican Mountains from at and near the preserve.
When you take a Sky Islands Birding Tour with us you are – from a birdwatching and ecological perspective – in Mexico! Here we boast an extensive bird list with many species found locally and in few or no other parts of the U.S.! To view and download the list of the Birds thus far recorded at Raven's Nest Nature Sanctuary, please click: PDF
Our ongoing species list includes 166 species as of January, 2023. Some of the bird highlights at or near Raven's Nest Nature Sanctuary have included (** = Mexican Specialty species, found only near the borderlands):
Black-bellied Whistling Duck
Neotropic Cormorant 
Blue-footed Booby** 
Black Vulture
Golden Eagle 
Gray Hawk** 
Zone-tailed Hawk** 
Common Black Hawk** 
Swainson's Hawk
Peregrine Falcon
Prairie Falcon
Montezuma Quail** 
Inca Dove 
Common Ground Dove 

Greater Roadrunner 
Yellow-billed Cuckoo
Whiskered Screech Owl** 
Elf Owl** 
Lesser Nighthawk 
Mexican Whip-poor-will**
Green Kingfisher**
Violet-crowned Hummingbird** 
Broad-billed Hummingbird** 
Berylline Hummingbird** 

Plain-capped Starthroat** 
Elegant Trogon **
Arizona Woodpecker** 
Gila Woodpecker**
Greater Peewee** 
Northern Beardless Tyrannulet** 
Vermillion Flycatcher 
Brown-crested Flycatcher** 
Dusky-capped Flycatcher** 
Cassin's Kingbird
Tropical Kingbird** 
Thick-billed Kingbird 
Rose-throated Becard** 
Mexican Jay** 
Chihuahuan Raven 
Bell's Vireo
Bridled Titmouse** 
Cactus Wren
Sinaloa Wren**
Black-capped Gnatcatcher** 
Black-tailed Gnatcatcher 
Rufous-backed Robin** 
Aztec Thrush**

Crissal Thrasher 
Curve-billed Thrasher 
Bendire's Thrasher 
Phainopepla 
Lucy's Warbler 
Grace's Warbler
Virginia's Warbler

Red-faced Warbler** 
Painted Redstart** 
Pyrrhuloxia
Varied Bunting**
Hepatic Tanager 
Abert's Towhee 

Canyon Towhee

Rufous-winged Sparrow**
Botteri's Sparrow**
Cassin's Sparrow
Black-throated Sparrow
Lark Bunting
Yellow-eyed Junco**
Scott's Oriole
Bronzed Cowbird 
Lawrence's Goldfinch 
At Raven's Nest Nature Sanctuary we have been thrilled to welcome over the years all the local Birding Festivals for a very rewarding birding & biodiversity experience.  Vincent leads groups from the Southwest Wings Spring Fling and Summer Festivals as well as the Tucson Audubon Birding & Nature Festival to Raven's Nest.  Sharing our Nature Sanctuary with organizations with which we share common goals continues to be a RWWJ priority. We are committed to exposing as many birders as possible to our unique Sky Islands Biodiversity. Always passionate about our Education & Conservation Mission, we share a message of protection and preservation to all our visitors and guests.
If in addition to Birding you are also excited about the unique Biodiversity of the Sky Islands region, consider Vincent's extensive knowledge in other areas of Natural History, the sciences, and in Wilderness Survival. As a Naturalist, Ethnobotanist, and Wildlife Biologist, Vincent offers Sky Islands Birding & Biodiversity Tours to showcase the amazing biodiversity of the area. He is passionate about sharing his knowledge about the fauna, flora and geology of this gorgeous region. The learning experience with Vincent will always include multiple fascinating Naturalist topics and disciplines. For further details, visit Sky Islands Birding & Biodiversity Tours.
This unique Sky Islands experience will allow you to enjoy a spectacular borderlands bird, while at the same time identifying the species of tree where you saw it. The tree itself might well be a Mexican Specialty and often has some human uses. Thus, dipping into the realm of Ethnobotany you may, for instance, discover that it has medicinal qualities or an edible fruit. During your private Birding & Biodiversity adventure Vincent will readily point out other wildlife species characteristic of the Sky Islands Region. We abound in Lizards, Mammals, Invertebrates, butterflies, insects, wild flowers, plants, etc. To view and download the Raven's Nest Nature Sanctuary Butterfly List, please click:PDF
Why miss out on such stunning  biodiversity? A Sky Islands Birding & Biodiversity Tour birding with a knowledgeable and well-rounded Naturalist, such a Vincent, is far more than just identifying birds! Bird sightings are accompanied by Vincent's observations on the behavior, habitat preferences, and other natural history facts about each species encountered.  In addition, Vincent will also help you to identify birds by sight, sound, range, and behavior during your Birding Adventure.
OWL PROWL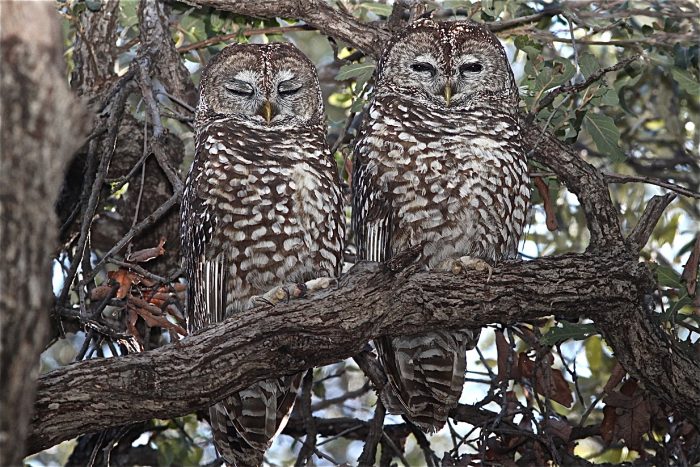 In addition to daytime birding adventures we also custom-make otherworldly "Owl Prowls", searching for some of our area's nocturnal denizens. No prior bird-watching experience is needed, so join us as we roam the deserts, grasslands, and forests in search of these winged wonders!
Some of our local Owls and other nocturnal birds include:
• Barn Owl
• Flammulated Owl
• Western Screech Owl
• Whiskered Screech Owl
• Great Horned Owl
• Northern Pygmy Owl
• Ferruginous Pygmy Owl
• Elf Owl
• Burrowing Owl
• Mexican Spotted Owl
• Long-eared Owl
• Northern Saw-whet Owl
• Common Nighthawk
• Lesser Nighthwawk
• Common Poorwill
• Mexican Whip-poor-will
Over the past 30 years Vincent has been a dedicated Wildlife Researcher throughout the U.S., acquiring  tremendous knowledge of the natural history of Owls and the nocturnal wildlife.  He'll not only guide you to various wildlife hotspots, but also teach you how best to employ your various senses at night.  During an Owl Prowl we often see other nocturnal wildlife including a variety of mammals, reptiles, and invertebrates that add to the experience.  You can also add Astronomy to your Owl Prowl, as Vincent takes you on a tour of Arizona's spectacular night sky! Consider adding our "Owls: Winged Assassins slide show" as part of your Owl Prowl as well! To view and download the Raven's Nest Nature Sanctuary Bird List, please click:PDF
PLANNING YOUR SKY ISLANDS BIRDING TRIP
Our Sky Islands Birding & Biodiversity Tours are designed to fit your interests, budget and preferences, to provide you with the most value and enjoyment during your  private Adventure. Thus, we offer Half-Day, Full-Day, and Multi-Day Tours. On a Half-day Tour you will likely visit approximately 3-4 different locations – some with multiple stops and walks within them. On a Full-day Tour, you'll visit upwards of 8 different locations, again with multiple stops within specific habitats to cover a broad range of Birding & Biodiversity learning opportunities.

Whether you are a novice, an experienced birder, or one of our many loyal return clients, Vincent is eager to learn about your "Target Species Wish List", and your specific Natural History interests. Accordingly, Vincent will custom-make an itinerary best suited to your birding level, interests, physical capabilities, and your Species Wish List. After all, this is your chance to have a fun and memorable birding experience that is tailored for you!
At RAVENS-WAY WILD JOURNEYS LLC we would love to help you plan a rewarding and productive Birding Adventure with us! If you are an experienced birder, then we can be your guide to some of most spectacular species you'll ever find. We can choose the best locations given the season, and custom-make an itinerary that will best suit your interests and goals. Many people significantly add to their life list when they join a private Sky Islands Birding & Biodiversity Tour with us!

At Ravens-Way Wild Journeys LLC we can accommodate any and all of the following:
Beginning birders
Intermediate birders
Expert birders
Local birders
Out-of-state birders
Overseas birders
Wilderness Birding
Individuals
Couples
Small groups
Large groups
Birding Tours at Raven's Nest Nature Sanctuary – As of January, 2023 we have recorded 166 species! We welcome private Birding & Biodiversity Tours.  Afterwards, you will follow Vincent in your vehicle to either Patagonia Lake State Park and/or Sonoita Creek State Natural Area.  Both locations are located 5 minutes away from Raven's Nest. Therefore, there are no mileage fees given that these Birding Hostspots are located by our Nature Sanctuary. Reservations must be made far in advance.
Local Sky Islands Birding Tours – Usually begin at Raven's Nest Nature Sanctuary located by Patagonia Lake State Park.  Afterwards, you will follow Vincent in your vehicle to various Birding Hotspots to highlight the amazing range of wild habitats in our area, and therefore, the diverse number of bird species within them. There is a minor Mileage Fee associated with these local Birding Tours.
Offsite Sky Islands Birding Tours – Designed for birders hoping to see as many Sky Islands species as possible. Thus, Vincent will tailor an itinerary that includes multiple stops further afield to showcase the many diverse Sky Islands habitats and thus an amazing number of different bird species. Given the driving involved to either the Meeting Location, and/or the various Birding Hotspots, a Mileage Fee will be added to your invoice accordingly.
Far afield Sky Islands Birding Tours – Multi-day Sky Islands Birding trips to renowned Birding Hotspots, the famed Chiricahua Mountains, Arizona's White Mountains or to the Grand Canyon. The tuition will depend on the number of tour participants, duration, destination, time of the year, etc. Very advance notice is required.
5

HOURS/HALF -DAY

8

HOURS/FULL – DAY
OWL PROWL  –

2

 H

1 – 2

Birders
$ 250
$ 400
$ 175
3 – 4 Birders
$ 350
$ 500
$ 275
5 – 6 Birders
               $ 600
                $ 800
               $ 450
Included in your Birding Tuition are the following:
A pre-Tour checklist with our suggested equipment and gear suited to the exact time of the year and environments you'll encounter during your Birding Adventure
Healthy snacks and beverages
Pre-scouting of local birding destinations in your itinerary – typically Vincent spends the same amount of time scouting your birding destinations as you do birding them! This helps to ensure that you'll find more birds, including the "Target Species List" that you are wishing to see, as well as rare birds
Post-tour Species List, including all of the birds and other wildlife that you encountered
Any bird and other Nature photo that Vincent takes during your trip will be e-mailed to you upon request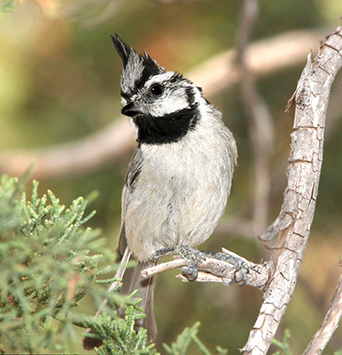 Whether you are a beginning, intermediate, or advanced birder, we can help you to build your skills while enjoying some of the most sought after species on the North American continent. Just e-mail us and we'll help you plan a very unique and memorable Sky Islands Birding & Biodiversity experience!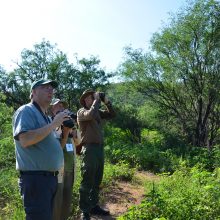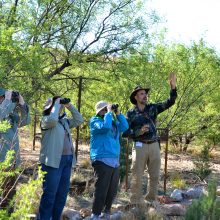 Nearby to Raven's Nest Nature Sanctuary are a host of incredible birding destinations sure to wet your appetite to explore. Five minutes from us Patagonia Lake State Park often harbors rare and unexpected aquatic species, as well as a wide range of Mexican Specialties. Adjoining Sonoita Creek State Natural Area – a short walk from Raven's Nest – presents a more remote wilderness of 9000 acres for those who enjoy trekking in solitude. A wide range of other birding options – both near and far – help to make your experience a diverse and memorable one!
We would like to thank Alan Schmierer, our neighbor and bird photographer for sharing his beautiful Bird photos and Bryan Holliday for sharing his spectacular Raven photo.
RAVENS-WAY WILD JOURNEYS HAS BEEN FEATURED IN: