ADOPT A TREE
TOGETHER, HOW CAN WE HELP THE ENVIRONMENT?
WHAT WE DO:
Planting Trees to reduce carbon dioxide is more important than ever given the effects global warming is having on our planet!
When planting and nurturing native trees, we only use the RAINWATER we have collected during the Monsoon and Winter seasons, the COMPOST we have produced from our organic food scraps and MULCH from dried Mesquite leaves and Non-native grasses. We also strive to maximize the benefits of the trees we plant to the surrounding Wildlife Habitat by strategically locating them during planting. (Note: Position your cursor over a tree image to see its name.)
WHAT YOU CAN DO: ADOPT A TREE
At RAVENS-WAY WILD JOURNEYS we provide you with a wonderful opportunity to create healthy and diverse Wildlife Habitats, while fighting climate change by offsetting your Carbon Footprint. Trees are a wonderful force in Nature because they absorb carbon dioxide from the air through a process called photosynthesis, and in exchange, trees give off oxygen as a waste product. Scientifically speaking, then, when you ADOPT A TREE, YOU have the opportunity to help offset your Carbon Footprint over the lifetime of that tree.
**At RAVENS- WAY WILD JOURNEYS we urge YOU to PLANT A TREE at home, and/or ADOPT A TREE with us!
Once the trees you sponsor have been planted, we will tag them with a permanent marker with an identification number and your name. You will then receive an e-mail confirmation from us including the location and identification number along with a photo of your tree. You will also receive a Certificate and our annual e-mail update with a photo keeping you informed of the growth and progress of your Tree(s).
Imagine, just one mature pine tree can absorb one ton of carbon dioxide over the lifetime of that tree!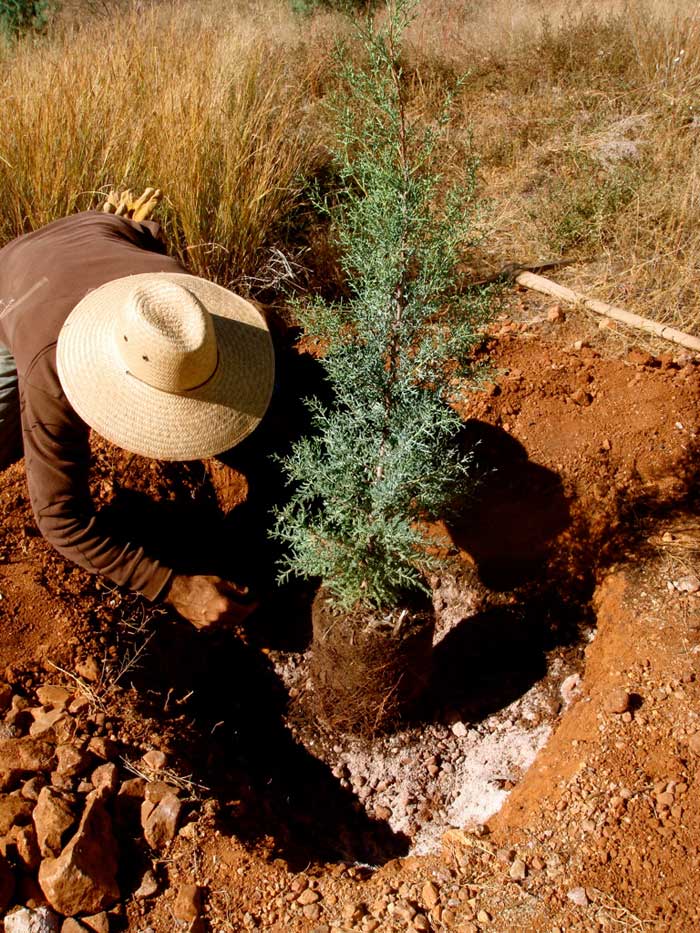 THE FACTS – WHY ADOPT A TREE?
From an Environmental perspective the technologically and industrially advanced age that we live in has consequences. Every time we turn on the lights, drive a car, take a flight, we are unwittingly producing carbon dioxide (CO2), which contributes to an excess of greenhouse gases in the atmosphere. Scientific studies have repeatedly demonstrated that the increase in greenhouse gases (mainly carbon dioxide) is directly linked to the rise of global warming and major climate changes. In part the greenhouse gases responsible for global warming are measured in units of carbon dioxide or CO2. The amount of CO2 that each person is responsible for is called a Carbon Footprint.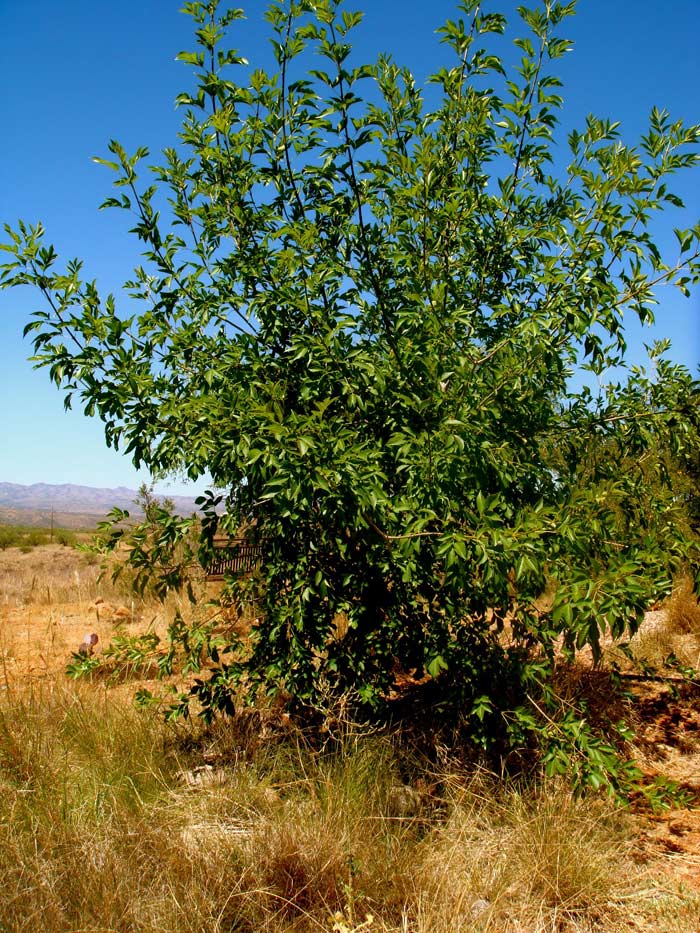 At RAVENS-WAY WILD JOURNEYS we are constantly implementing a holistic approach aimed at reducing our Carbon Footprint. We modify our behaviors—making green changes both big and small—to help reduce the amount of carbon that we place into the atmosphere. We try to minimize the remainder of the CO2 that we produce through a Sustainable Carbon Offsetting Lifestyle ( Planting trees, Rainwater Harvesting, Organic Gardening & Composting, etc . . . ). Our aspiration on a daily basis is to be Carbon Neutral.
YOU  too can help the Environment today and can make a huge difference by  joining our ADOPT A TREE program.  For example, one of our Wilderness Survival and Stone-age Skills students, Rob, adopted a large Arizona Cypress tree in the name of his  one-year old son Maximus.  Although Rob and his family live many miles away from the Raven's Nest Nature Sanctuary, he realized that this gift would be one for the future of his young son and generations to come.  With the help of people like Rob the forecast for a healthy Environment is indeed an optimistic one!
**If YOU ADOPT A TREE , TOGETHER WE CAN HELP OFFSET YOUR CARBON FOOTPRINT AND HELP THE ENVIRONMENT!
Therefore, there are many rewarding and compelling reasons why you should consider joining our ADOPT A TREE program at RAVENS-WAY WILD JOURNEYS:
TO BENEFIT WILDLIFE AND IMPROVE NATIVE HABITATS
TO HELP OFFSET YOUR CARBON FOOTPRINT (and combat Global Warming)
TO HONOR A LOVED ONE IN MEMORIAM 
AS A GIFT TO SOMEONE YOU LOVE (birthday, holiday, anniversary, etc…)
TO SERVE AS ONGOING TEACHING TOOLS TO HELP OTHERS LEARN ABOUT NATURE
YOUR TREE CHOICES & BENEFITS TO WILDLIFE
SPECIES
EVERGREEN
FRUIT
NECTAR/SAP
SEEDS/NUTS
SHELTER
ARIZONA CYPRESS
(Cupressus arizonica)
X
X
X
ARIZONA WALNUT
(Juglans major)
X
X
X
EMORY OAK
(Quercus emoryii)
X
X
X
X
VELVET ASH
(Fraxinus velutina)
X
X
X
ARIZONA ROSEWOOD
(Vaquelinia californica)
X
X
X
X
EVERGREEN SUMACH
(Rhus choriophylla)
X
X
X
X
X
FREMONT COTTONWOOD
(Populus fremontii)
X
X
DESERT WILLOW
(Chilopsis linearis)
X
X
X
YELLOW TRUMPET
(Tecoma stans)
X
X
X
MEXICAN ELDERBERRY
(Sambucus mexicana)
X
X
X
NETLEAF HACKBERRY
(Celtis reticulata)
X
X
X
ARIZONA SYCAMORE
(Platanus wrightii)
X
X
X
TREE SIZES
You can choose to ADOPT a small, medium, or large potted Tree. Generally the prices are the same for these sizes between the species, but if the Tree you wish to ADOPT costs slightly more than the listed price, we'll gladly make up the cost difference!
SMALL TREE: $25/tree (~ 1—2 feet tall)
MEDIUM TREE: $35/tree (~3—4 feet tall)
LARGE TREE: $55/tree (~ 5—7 feet tall)
In addition to locating, transporting, and planting your Tree we will also supply any soil amendment products and nutrients (e.g. Gypsum sand, fish oil, compost) to help it grow in a healthy and balanced fashion.
To ADOPT A TREE just send us an e-mail stating the Tree species and the size tree you want to ADOPT. We will then confirm your order with you at which time you can send a check to RAVENS-WAY WILD JOURNEYS for the necessary amount.
**Due to the seasonality of our planting zone, the best times to plant trees are in Spring and Fall. You can, however, ADOPT-A-TREE at any time—we'll just buy and plant it at the first opportunity that the seasons allow.