Raven's Nest Nature Sanctuary by Patagonia Lake, AZ.
Are you and your spouse or partner looking for a Sky Islands couples retreat this weekend? Are you celebrating your Anniversary? Are you hoping to have a totally private Couples Retreat, Getaway, or Honeymoon? If you are eager to disconnect and enjoy an exclusive, peaceful, and totally private couples experience, our romantic and secluded Eco-lodge at Raven's Nest Nature Sanctuary is the perfect fit!  For further information visit: Raven's Nest Nature Sanctuary
Whether you are nurturing a new romance, rekindling an old one, or simply reconnecting with the one you love, we have the perfect venue for you. A very unique Glamping experience at our Safari Tented Camp will provide the most memorable and relaxing experience for your Honeymoon, Anniversary, or a weekend get away while enjoying the  peace and beauty of Raven's Nest Nature Sanctuary! Visit:Glamping
Once we confirm availability on your preferred dates and you secure your reservation via your deposit, Raven's Nest Nature Sanctuary will be reserved  exclusively for you! We are thrilled to offer a very private experience to our guests and the privilege to book the exclusive use and enjoyment of Raven's Nest Nature Sanctuary during your romantic couples retreat, weekend getaway, or honeymoon.
For extended stays at Raven's Nest Nature Sanctuary, a striking mustard canvas tent is spacious and comfortably accommodates a comfortable queen sleep number bed, full furnishings, a small Nature library, and sitting areas. With fully adjustable fans as well as space heaters and heated blankets you'll easily control the temperature of your exotic abode.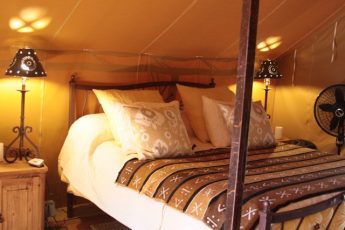 Ensuite bathrooms for each Safari Tented Camp will offer privacy and a very unique experience as you enjoy a hot shower under the stars. You'll love the privacy and intimacy at Raven's Nest Nature Sanctuary in general and the Safari Tented Camp Eco-lodge in particular.
To further explore our Safari Tented Camp visit: Eco-Lodge
A mere stroll brings you from your tent to the open-air dining of Catclaw Lounge where you can enjoy gourmet cuisine. Let us know your dietary preferences, so we can accommodate your needs. The nearby Lion's Den proffers shaded relaxation by a small wildlife pond with Coati Cafe and its organic snacks and smoothies close at hand. To learn about our Cuisine and Meal Plan choices please visit: Gourmet Dining
When you stay at Raven's Nest Safari Eco-lodge, you'll enjoy exclusively the entire 42-acre preserve ! Here you can lay in a hammock or lounge chair to your heart's content, wander the miles of Nature Trails, savor a good bottle of wine, read a book in a hammock, lose yourselves while gazing at the stars, and simply relax.
To explore our Sky Islands Nature Adventures options visit: PRIVATE ADVENTURES
Nature Trails meander into the wilds from several directions in the Safari Camp, promising quick adventures as you desire.
At night curl up by a blazing fire, enjoy an Astronomy program, a hot outdoor shower, or simply relax in the ambiance of your beautiful Safari Tent. Personal Massages can be arranged if you let us know well in advance.
Nearby Raven's Nest Nature Sanctuary are a number of exciting activity options. Local Wine Tours are quite popular, as local vineyards have a growing reputation for excellence. Canoeing or kayaking at Patagonia Lake can provide hours of fun and challenge. Shopping the quaint shops in Patagonia and Tubac is a popular choice with some guests.
 Truly as the world gets busier and schedules a bit crazier, finding time to connect with the one you love can be a real challenge. Where will you go ? What will you do? Seemingly countless questions and details can easily tax your waning patience. Raven's Nest Nature Sanctuary is the perfect couples get away…..
Instead of sweating the details, let us take care of them for you. With a myriad of custom-made getaway options, you only have to tell us what you want and we'll deliver the rest.
 RAVENS-WAY WILD JOURNEYS HAS BEEN FEATURED IN: